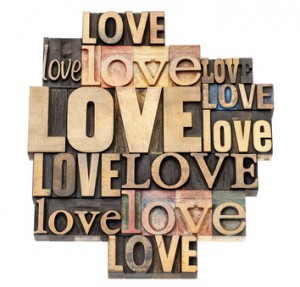 Love is, as Carrie Lee would have said, "more than a notion." So what is love, really?
Love and Carrie Lee
Carrie Lee was my grandmother. She never had a lot to say about love. She didn't talk it; she lived it. Like this:
One day, about mid-afternoon, she got a phone call from a little town in Ohio called Bucyrus—about 65 miles north of her Columbus home. It was her son Bill.

"Mom. Pop was in an accident and it's bad. He needs you here. Right away. Now."  Her world didn't stop… but it wobbled on its axis.

For the next 20 years, Carrie Lee lived her love by tending the physical and emotional scars left by third degree burns and 1950s-era skin grafts over her husband's face, neck, shoulders, back, arms and hands. She bathed delicate regrown skin, prepared food that could be spooned between scar-tissued lips, and absorbed the rage sparked by chronic pain and disability.
That call from Bucyrus was one of the defining points in a love odyssey that began in 1917 and spanned the next 54 years. My grandmother defined love with her life. That's love … in action … really.
Love and the Theologian
In Listening to Your Life (a book of daily meditations), Frederick Buechner says this in the November 15 entry:
The love for equals is a human thing—of friend for friend, brother for brother. It is to love what is loving and lovely. The world smiles.

The love for the less fortunate is a beautiful thing—the love for those who suffer, for those who are poor, the sick, the failures, the unlovely. This is compassion, and it touches the heart of the world.

The love for the more fortunate is a rare thing—to love those who succeed where we fail, to rejoice without envy with those who rejoice…The world is always bewildered by its saints.

And then there is the love for the enemy—love for the one who does not love you but mocks, threatens, and inflicts pain. … This is God's love. It conquers the world.
Buechner's discussion, as always, is wise and incisive. He defined love with powerful, thought-provoking words. That's love in comprehensive description … really.
Love and the Disciple
If you are interested in following Jesus, you probably know that He talked a lot about love. Love the Father, He said. Love Me. Love one another. Love your enemies. But then, He didn't just talk it — he lived it … like this.
One day, just before the Passover feast, Jesus was sitting at supper with his close friends and followers. He got up from the table, wrapped a towel around his waist, and filled a basin with water. Then He kneeled before his friends and began to wash their feet. One of them objected.

"Master, you wash my feet?"

"Peter, this seems strange now, but it will make sense to you later."

"Master, you're not going to wash my feet—ever!"

"You really don't get it, do you Peter? I'm showing you how you should live. You called me Master, and you got that right. I am your Master. And your Master is washing your feet.

"What does that tell you? In words of one syllable, if I can wash feet, not one of you is too good to wash feet. If am willing to serve you, you must serve one another. After all, followers are not better than their leader."
Jesus' example marks a defining point in every disciple's love odyssey. He calls us to follow him on a journey through the very heart of God, a journey that gives our lives meaning. That is love … in obedient service … really.