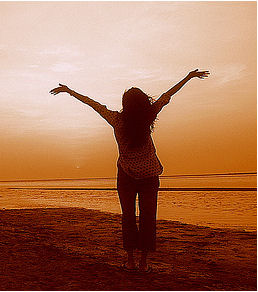 During an aerial ballet representing the quest of the Magi to follow the star that led them to Jesus, a young Ohio woman fell onto a concrete floor as two thousand worshippers watched in shock and grief and prayers for her well-being. Hours later at the hospital, she died.
But Lord!
You blindsided us here.  How could this happen? Did we do something wrong? What is going on? Lord, why aren't you answering my questions?
Look in the Book.
"I cry out to you, O God, but you do not answer; I stand up, but you merely look at me. You turn on me ruthlessly; with the might of your hand you attack me. You snatch me up and drive me before the wind; you toss me about in the storm… when I hoped for good, evil came; when I looked for light, then came darkness." (Job 30:20-22, 25-26)
OK…I see there's nothing new about my despair. Nothing new about my resentment. So I look a little farther.
"Master," the disciples asked Jesus. "Who sinned, this man or his parents, that he was born blind?" Jesus answered, "Neither, but that the works of God might be revealed in him. I must work the works of Him who sent me while it is day." (John 9:2-4)
Nothing new about the urge to blame somebody either. But Jesus told His friends,  "No blame here, fellows. This is not about that man. This is not about his parents. This is not about your opinion. This is about God and His work. "
"But Lord," I asked, "does your work cause such pain?"
"I know the plans I have for you… plans to prosper you and not to harm you, plans to give you hope and a future."
(Jer. 29:10-12)
"But Lord," I said,  "I see the harm. I feel the pain. I hear the crying. I don't see hope or prosperity or joyful dancing. I see tragedy – "
"I have loved you with an everlasting love;  I have drawn you with loving-kindness. I will build you up again and you will be rebuilt … you will take up your tambourines and go out to dance with the joyful." (Jer. 3:3-4)
But Lord …
"… in all things God works for the good of those who love him, who have been called according to his purpose."(Rom. 8:28)
Am I hearing that right? God works in everything for our good, if we love Him? No matter what happens? How can we believe that?
"Many therefore of his  [Jesus'] disciples, when they had heard this, said, 'This is an hard saying; who can hear it?'….From that time many of his disciples went back, and walked no more with him. Then said Jesus unto the twelve, 'Will ye also go away?'

"Then Simon Peter answered him, 'Lord, to whom shall we go? thou hast the words of eternal life. And we believe and are sure that thou art that Christ, the Son of the living God." (John 6:60,66-69)
If I love Him…then I trust Him. If I trust Him…how can I not believe that? No matter what, our Father works in everything that happens for our ultimate good…even when I don't understand.
Tragedy
.

Oh my God! How can this happen?
Prayer. 
Father God, fix this.
Death.
Father God, where were you?
Doubt. 
Father God, I don't understand.
Recrimination.
Father God, where were you?
Despair.
OH MY GOD! HOW COULD YOU LET THIS HAPPEN?
Brokenness.
I AM. I AM HERE.
I KNOW. I KNOW YOU.
I AM. I AM LOVE.